Chevrolet Cobalt Service & Repair Manual: Noise, Diagnosis
A visual inspection must always be performed to confirm the presence of aftermarket components, potential collision damage, or areas of concern.
A noise produced by a vibration can be diagnosed in the same manner as a vibration. A noise produced by wind, leaks, or vehicle turbulence requires the use of special listening tools.
When a vibration produces a noise, the vibration can be transmitted from the originator, through the conductor, and on to the reactor where the noise is heard by the customer. The noise is transferred directly from component to component. For example, if the steering system (originator) is producing an abnormal vibration, the suspension system (conductor) can transmit the vibration to the instrument panel (reactor) where a noticeable squeak is heard.
To be able to isolate a noise to a specific system/component group, use one or more of the following noise detection tools: Chassis ears, mechanics stethoscope, screwdriver, rubber hose, and a ultrasonic leak detector.
Noises that are produced by wind, turbulence, and air leaks are independent from noises produced by moving components. The noise is not transferred directly from component to component.
Once a symptom is classified as a noise concern, the particular conditions under which the noise occurs need to be identified. These conditions are identified and verified on the road test.
Detailed information from the customer is key is duplicating and diagnosing a noise concern. Use of a customer interview sheet can assist in pinpointing the origin of the noise concern, Fig. 1.
Refer to Fig. 2 for noise concern diagnostic flow chart.
| | |
| --- | --- |
| 1. | Perform a vehicle road test and duplicate noise concern. |
| | |
| --- | --- |
| 2. | After identifying possible systems, a preliminary inspection of these systems should be done. If cause is identified at this stage, perform required repairs. |
| | |
| --- | --- |
| 3. | If source of noise is unidentified, use a listening device such as a chassis ear to pinpoint source of noise. |
| | |
| --- | --- |
| 4. | Once source of noise has been identified using a listening device, determine if this source is related to suspected system previously identified. If it is unrelated, then it is possible that source of noise is a reactor to a noise being transmitted through a transfer path. |
| | |
| --- | --- |
| 5. | Common vehicle noises and applicable vehicle and component systems that can be affected are as follows: |
| | | |
| --- | --- | --- |
| | a. | Grunt on acceleration: A raspy sound and momentary vibration in floor pan during acceleration or following a braking stop. Grunt on acceleration occurs on light trucks, and is an concern of driveline system. Vehicle speed range is 0-2 mph. |
| | | |
| --- | --- | --- |
| | b. | Tip-in moan: A moan noise with a possible vibration in floor during light acceleration. It is usually worse at one particular throttle setting during acceleration at that speed. Common vehicle speeds range between 25 and 50 mph. Tip-in moan is possible on all vehicle types, and is an concern of engine and exhaust systems. |
| | | |
| --- | --- | --- |
| | c. | Brake moan: A low-pitch noise that is felt in floor and/or steering wheel during light brake application. Common vehicle speeds range between 8 and 40 mph. Brake moan is possible on all vehicle types and is an concern of brake system. |
| | | |
| --- | --- | --- |
| | d. | Hum or boom: These are low-pitch noises often accompanied by a vibration felt in floor pan. Usually related to driveline angle or balance. It may or may not be torque related. Hum or boom occurs on all rear wheel drive vehicles and is an concern of driveline system. |
| | | |
| --- | --- | --- |
| | e. | Howl: Howl is a medium-pitch noise that may be heard at any speed. Typically, it can be affected by acceleration or deceleration. Howl is possible on all vehicle types, and is an concern of drive axles. |
| | | |
| --- | --- | --- |
| | f. | Whine: A high-pitch noise that may be heard at any speed. It is typically, but not always, unaffected by accelerating and decelerating. Whine is possible on all vehicle types, and is an concern of drive axles. |
| | | |
| --- | --- | --- |
| | g. | Driveline clunk: A loud noise that can be attributed to total powertrain response to torque reversals in system, including, but not limited to, backlash in transmission, driveshaft, and axle. Driveline clunk is possible on all vehicle types, and is an concern of driveline system on rear wheel drive, or drive axles on front and rear wheel drive vehicles. |
| | | |
| --- | --- | --- |
| | h. | Chuckle: Low-pitch noise that normally occurs while decelerating to a stop; pitch goes down as vehicle slows. When very loud, often described as a knock. Chuckle is possible on all vehicle types, and is an concern of drive axles. |
| | | |
| --- | --- | --- |
| | i. | Rumble: Low-pitch noise that often is loudest during turns. Can usually be identified as front or rear in origin. Rumble is possible on all vehicle types, and is an concern of drive axles. |
| | | |
| --- | --- | --- |
| | j. | Brake rattle: Noise of varying pitch that changes as brakes are applied or released. Brake rattle is possible on all vehicle types, and is an concern of brake system. |
| | | |
| --- | --- | --- |
| | k. | Chatter: Pronounced noise that occurs only when turning. Chatter is possible on all rear wheel drive vehicles, and is an concern of drive axle. |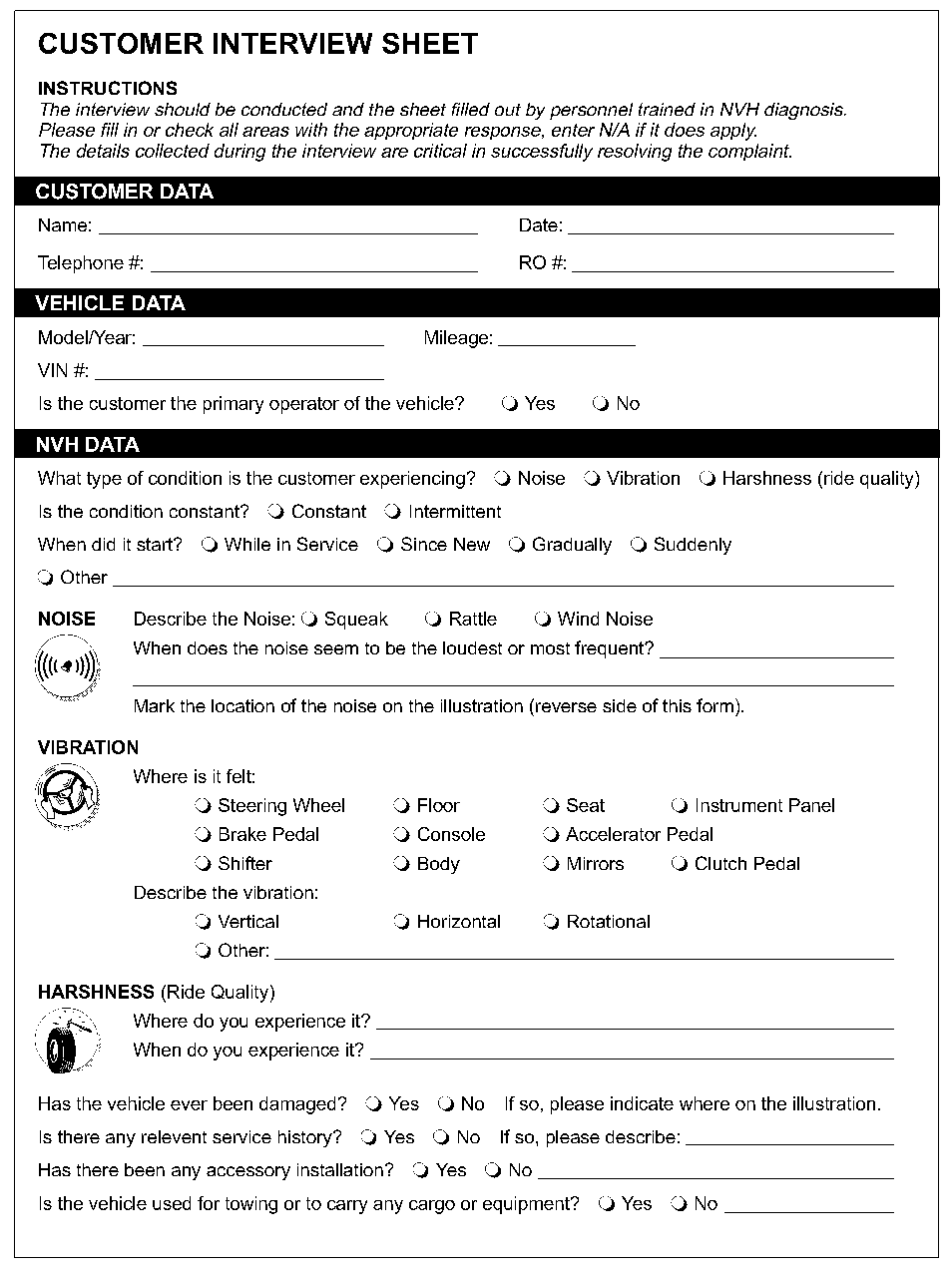 Fig. 1 Customer interview sheet (Part 1 of 2)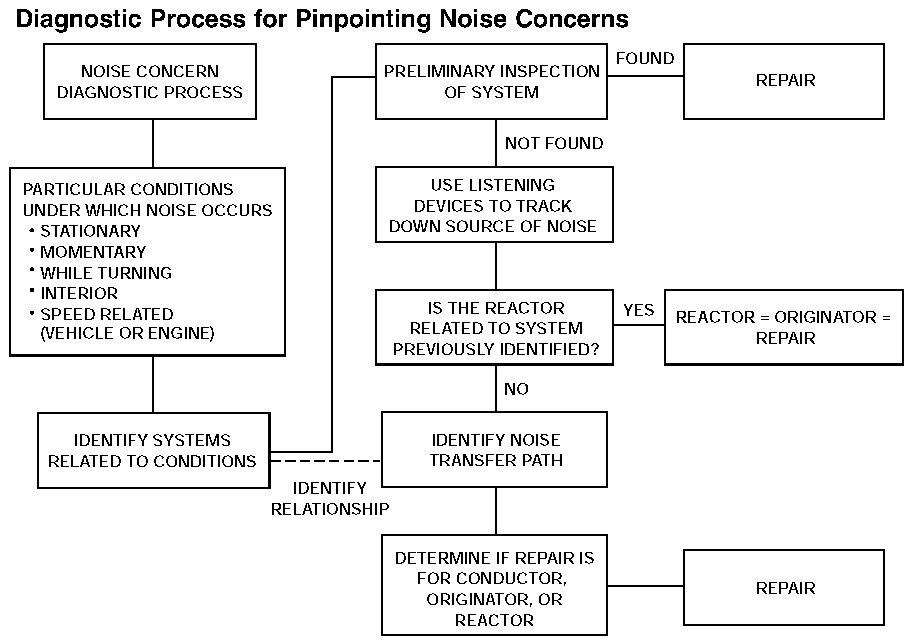 Fig. 2 Noise diagnostic flow chart
Chevrolet Cobalt Owners Manual
Chevrolet Cobalt Service Manual