Chevrolet Cobalt Owners Manual: Windows
Power Windows
For vehicles with power windows, the switches
on the driver door armrest control each window.
The switch on each
passenger door controls
only that doors window.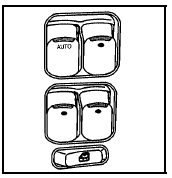 Sedan Shown, Coupe
Similar
Press the front of the switch to open the window and pull the switch up to close it.
See Power Windows.
Chevrolet Cobalt Owners Manual
Chevrolet Cobalt Service Manual