Chevrolet Cobalt Owners Manual: Sunroof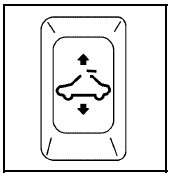 On vehicles with a
sunroof, the switch that operates it is located on the headliner between
the map lamps.
The sunroof will only operate while the ignition is on, or turned to ACC/ACCESSORY, or if Retained Accessory Power (RAP) is active. See Retained Accessory Power (RAP).
Press the sunroof switch rearward to open the sunroof to the vent position. If the sunshade is closed, it must be opened manually in the vent position. Press and hold the switch rearward a second time to open the sunroof. If the sunshade is closed, it will open automatically when the sunroof is opened.
To close the sunroof, press the switch forward and hold it until the sunroof is closed. The sunroof will stop if the switch is released. Close the sunshade by hand.
Notice: Forcing the sunshade forward of the sliding glass panel may cause damage and the sunroof may not operate properly. Always close the glass panel before closing the sunshade.
The sunroof glass panel cannot be opened or closed if the vehicle has an electrical failure.
Do not keep the sunroof open for long periods of time.
Debris may collect in the tracks and possibly damage the sunroof and plug the water draining system.
Chevrolet Cobalt Owners Manual
Chevrolet Cobalt Service Manual