Chevrolet Cobalt Owners Manual: Headlamps, Front Turn Signal, Sidemarker, and Parking Lamps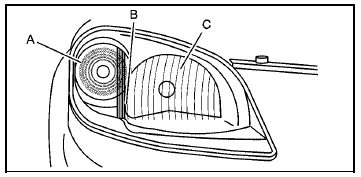 A. Front Turn Signal/Parking Lamp B. Sidemarker
C. Headlamp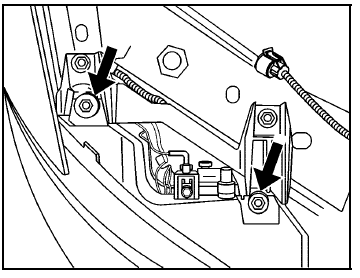 To replace one of these bulbs: 1. Open the hood. See Hood Release.
2. Remove the two bolts from the headlamp assembly.
3. Remove the two fasteners from the fascia.
Assistance may be needed for Steps 4 and 5.
4. Pull the front fascia back.
5. Pull the headlamp assembly up at an angle and towards the radiator to remove it.
6. Disconnect the bulb base from the wiring harness by lifting the locking tab.
7. Disconnect the wiring harness from the bulb socket.
8. Remove the retainer by turning it counterclockwise.
9. Turn the bulb socket for the headlamp, front turn signal, or parking lamp counterclockwise. For the sidemarker bulb, use a tool to assist in turning the bulb socket.
10. Pull the old bulb out of the socket.
11. Install a new bulb.
12. Reinstall the bulb assembly by reversing Steps 1 through 9.
When reinstalling the headlamp assembly, first make sure that the wiring harness is in its original position. If not, the headlamp assembly will not fit correctly.
Align the two tabs on the bottom of the assembly that fit into two slots in the headlamp assembly bracket.